Career in Suruhanjaya Perkhidmatan Awam Perak

Jobs at Suruhanjaya Perkhidmatan Awam Perak
Welcome to our careers section where you can find out more about working with us especially for those who are living in Perak Darul Ridzuan or Perakian. Interested applicants with suitable skills are requested to submit an application to the details provided below.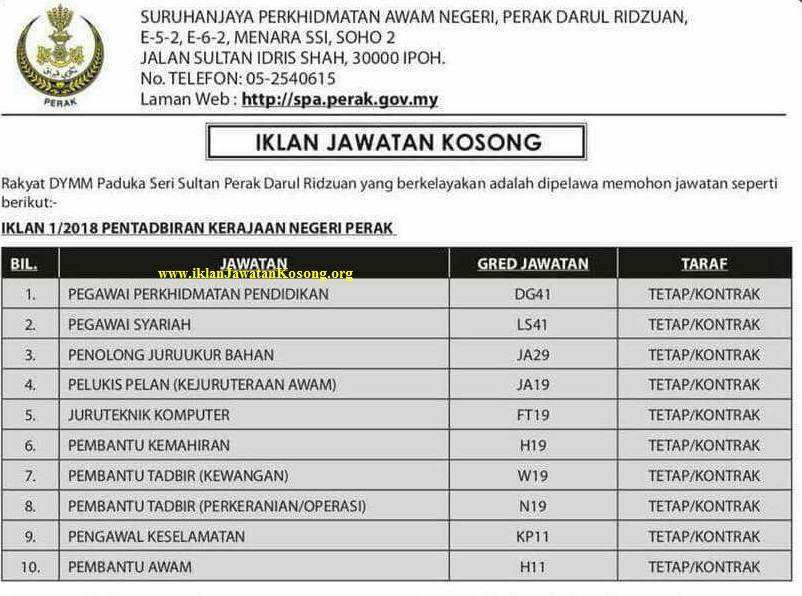 Kindly click here to see the complete advertisement.
Closing on : 15 Mac 2018
Dapatkan informasi dan jawatan kosong lain di Perak. Klik FB : Fb
https://www.facebook.com/JawatanKosongPerak/ (Jgn lupa LIKE dan FOLLOW). TQ
Perak Overview
The real point of history for Perak starts with the installation of Sultan Muzaffar Syah I from the descendent of Sultan Mahmud Syah in Melaka in 1528. Although the Perak sultanate has emerged as a strong entity, other local governments at that time remained as strong. The administration method chosen was a descendent from the feudal system of the democratic Melaka..
Career in Suruhanjaya Perkhidmatan Awam Perak