Jawatan Kosong Universiti Malaysia Kelantan (UMK)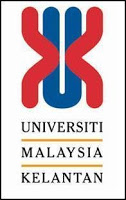 Jobs at Universiti Malaysia Kelantan (UMK)
When people think of Universiti Malaysia Kelantan (UMK), they think of one of the most prestigious academic institutions anywhere—a culture of research and entrepreneurship, where freedom to innovate continually extends the horizon of the possible. UMK aims to attract the best staff talent to join its workforce. Explore this site to learn if UMK is the right place for you.

1. Pembantu Pengawas Peperiksaan
Application Deadline: 6 Nov 2017
Kindly click here the link at the post above to view the complete advertisement.
UMK Overview
In line with the government's vision to propel the country to become a high-income nation, Universiti Malaysia Kelantan (UMK) aspires to help perpetuating this noble intention by making headway in proliferating the human capital so as to spur on the country's development. Since its inception in 2007, UMK has been steadily instrumental in championing entrepreneurship education in Malaysia in order to produce multitalented graduates.
Jawatan Kosong Universiti Malaysia Kelantan (UMK)