Jawatan Kosong at Jabatan Perdana Menteri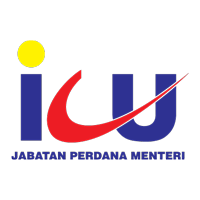 Jawatan Kosong at Jabatan Perdana Menteri
The Prime Minister's Department or Jabatan Perdana Menteri is a federal government ministry in Malaysia. It is headed by the Prime Minister of Malaysia followed by other ministers in the Prime Minister's Department. The Department consists of the Prime Minister's Office, the Deputy Prime Minister's Office and more than 50 other government agencies and entities.The Prime Minister's Department was established in July 1957.Its headquarters are in Perdana Putra, Putrajaya.

1. Pembanci Sambilan Harian Gred 17
Kindly click the image below view the complete advertisement. Date: 15 Jan 2018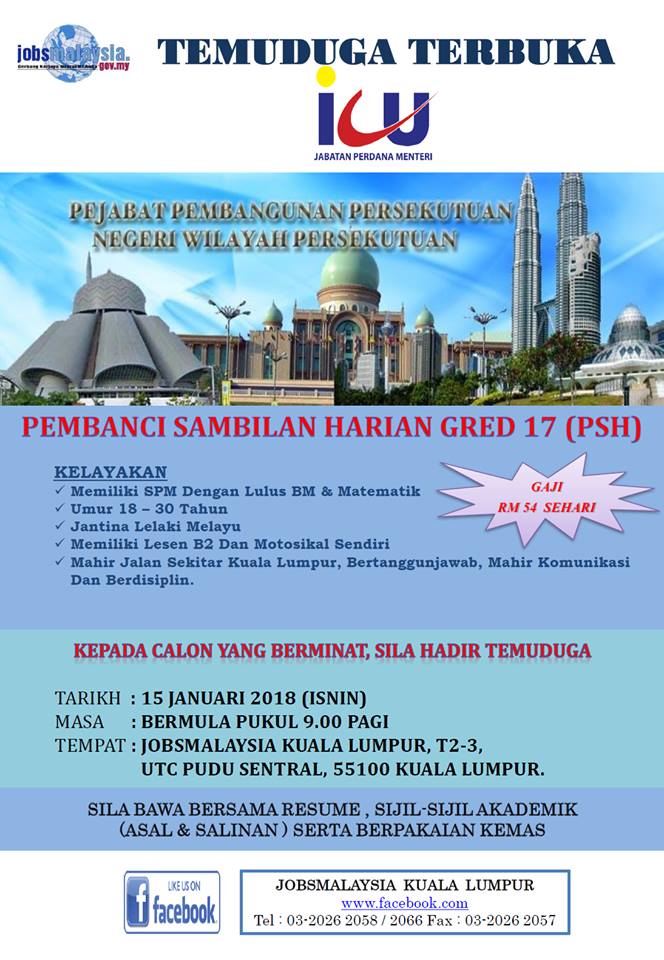 Jawatan : Pembanci Sambilan Harian
Tarikh :15 Januari 2018 (Isnin)
Masa :Bermula Pukul 9.00 Pagi
Tempat Temuduga :
JobsMalaysia Kuala Lumpur, Lot T2-3, Pusat Transformasi Bandar (UTC) Kuala Lumpur, Pudu Sentral, 55100 Kuala Lumpur.
Calon diminta membawa dokumen-dokumen berikut semasa menghadiri temuduga:
1. Resume
2. Sijil-sijil Akademik (Asal & salinan)
3. Salinan Kad Pengenalan
* Calon yang hadir temuduga mestilah berpakaian kemas. T-shirt, Jeans dan selipar tidak dibenarkan.
Untuk pertanyaan, sila hubungi 03-2026 2058
JPM Overview
Formerly known as General Administration, Prime Minister's Department (Jabatan Perdana Menteri). The department was reorganized into nine (9) divisions, Innovation and Human Resource Management (BIPSM), Finance (B. Kew), Development, the Accounts (BA), Management Services (BKP), Internal Audit, Corporate Communications Unit (UKK), Events Management & Legal Adviser Office. All nine (9) divisions are reporting to the Senior Deputy Secretary-General and assisted by the two Deputy Secretary-General which are Deputy Secretary-General (P) and Deputy Secretary-General (K&P).
Career in Jabatan Perdana Menteri